Bedsores Are a Sign of Neglect.
Let's bring those responsible to justice – & get the compensation that you deserve.
Call 800-600-2807 now and speak to an actual attorney. When you call this number, you will speak to an attorney and not a call center or a receptionist.
Don't let mistreatment by nursing homes and hospitals go unanswered. We can help you file a claim – and get justice for your loved one. Our attorneys can hold those responsible accountable.
Bedsores are wounds that form under the pressure of being in the same position. When someone remains in the same spot for even just an hour or two, their body's weight can cut off circulation.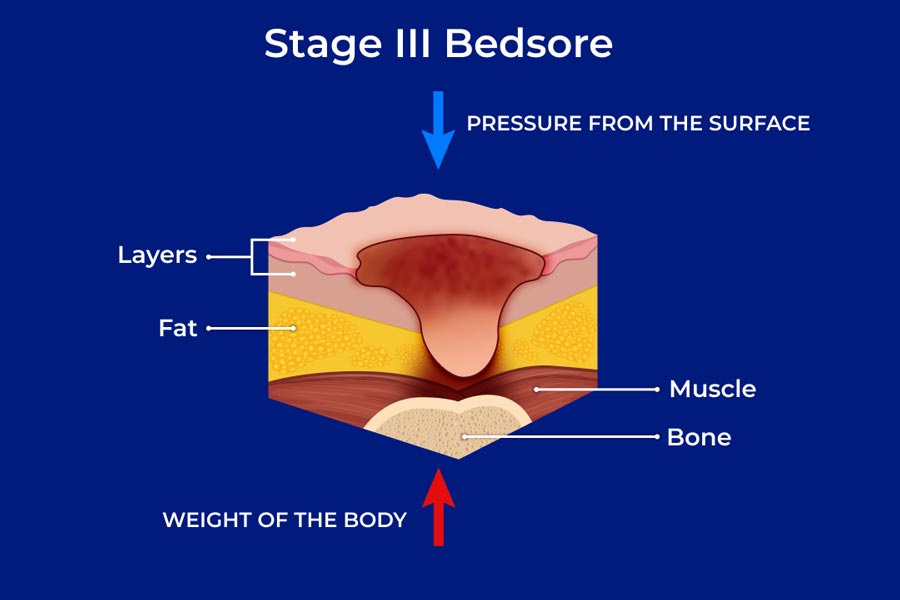 Next, a red or purple sore typically develops, which must be staged and treated immediately.
Without adequately diagnosis and treatment, the sore can deepen, causing permanent health problems. At worst, once it becomes infected, it can even cause sepsis and death.

Are Bedsores Preventable?
Prevention is the best way to avoid this painful and often dangerous condition. Repositioning and adequate nutrition – relatively simple care – prevent pressure wounds.
Unfortunately, in so many cases, this straightforward approach of turning and moving patients, or residents, every couple of hours and checking their skin for any signs of irritation or bruising is abandoned.
Medicare lists pressure injuries as a never event, which means they are never supposed to form under the care of a healthcare team or facility.
Many nursing homes and hospitals can and have developed protocols aimed to, in part:
identify who is at risk of developing bedsores,

determine how often these patients should be adjusted, or

if any equipment, such as a bed that incorporates movement, or simply adding cushions strategically to beds or chairs as needed to protect bony prominences.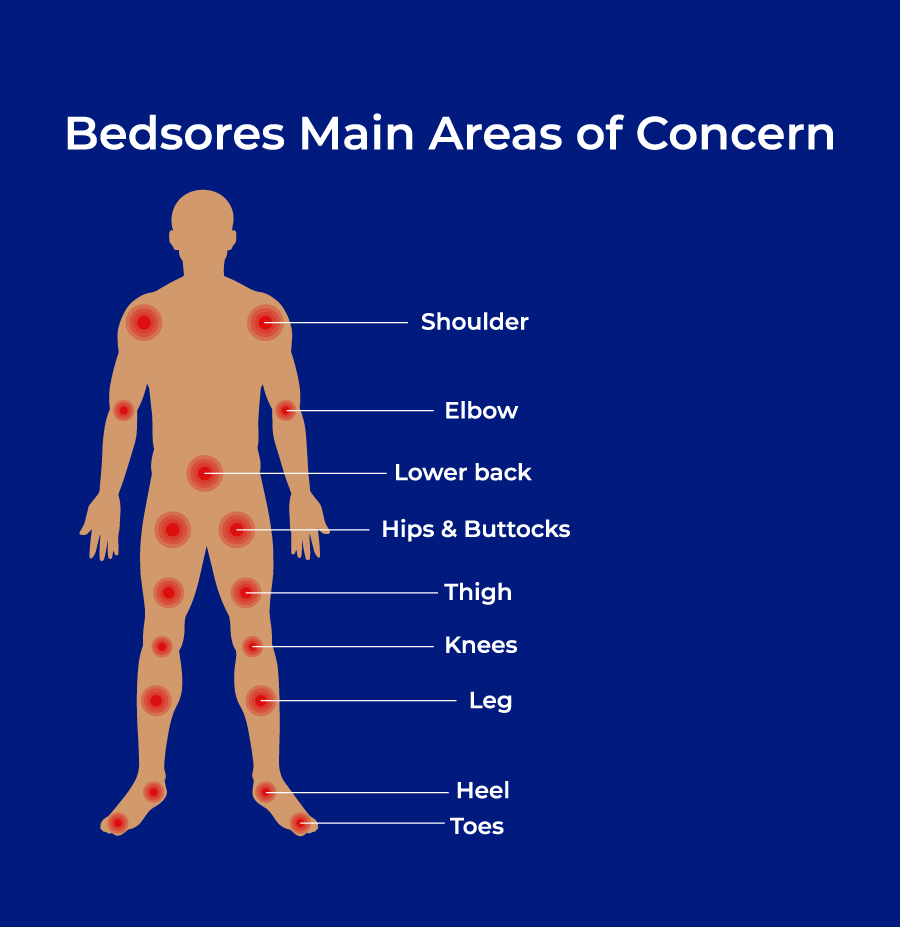 When Bedsores Become Life-Threatening
These injuries still occur in tens of thousands, mainly attributable to understaffing and undertraining staff, tragic negligence by the healthcare team, or a combination of both.
It is not just hospitals and nursing homes either. People continue to develop these preventable wounds in the hospital, nursing homes, assisted living facilities, and even where people receive home care.
Can Bedsores Cause Sepsis?
Bedsores can lead to sepsis. If you or your loved one has a bed sore and is diagnosed with sepsis, then there is a strong possibility that the sepsis was caused by the bed sore. Any break in the skin caused by a bed sore can become infected. Sepsis is the body's extreme response to an infection. It is a life-threatening medical emergency. Sepsis causes extensive inflammation throughout your body, possibly leading to tissue damage, organ failure, and death.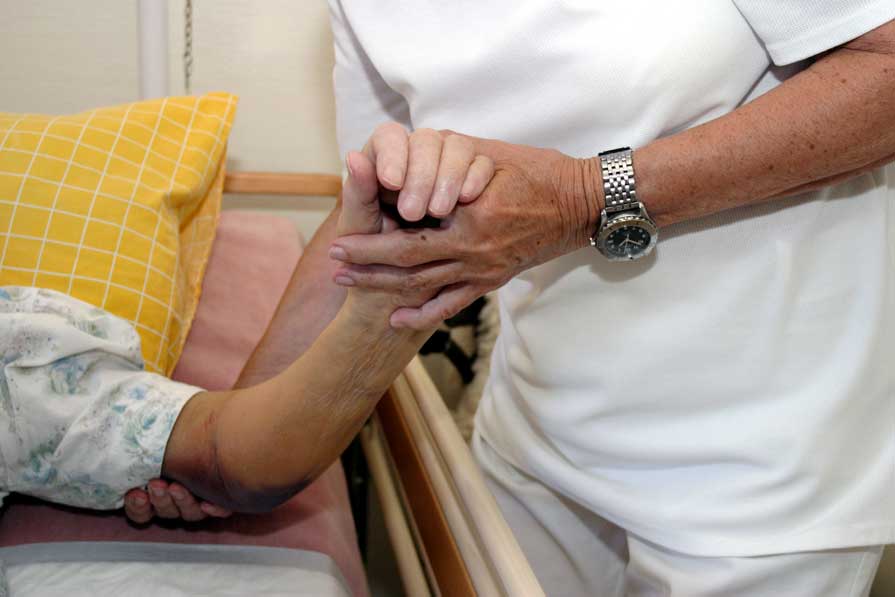 There are three stages of sepsis:
Sepsis
Severe Sepsis
Septic Shock
Over 1.7 million people in the United States alone receive a diagnosis of sepsis each year. Sepsis is more common in adults over 65 years of age.
Fatality Rate: Unfortunately, once sepsis develops, 1 in 5 people still die with or without treatment.
Still, immediate treatment is crucial, and many patients with sepsis eventually recover. However, even the survivors of sepsis can face long-term effects. You may develop complications such as chronic fatigue, pain, decreased cognitive functioning, post-traumatic stress disorder, and organ failure and are at a higher rate of developing sepsis again.
Many people die in the months and years after surviving sepsis. Statistically, more than half of all sepsis survivors die within five years.
When you are under the care of a hospital or a nursing home, there are laws and regulations in place, at both the federal and state level, to protect you from acquiring preventable injuries, including severe bed sores.
Call our office, and an attorney will evaluate your case and walk you through the legal steps we can take next based on your circumstances. Alternatively, complete our case consultation form, and our office will contact you.
In addition to holding those responsible accountable, bedsore verdicts and settlements, in New York can provide for considerable compensation.
The most vulnerable areas of the body are bony prominences, such as the back of the head, the hips, or around the knee. The diagram above illustrates the most common places on the body where bedsores form.
The stress and uncertainty of discovering your loved one's severe pressure wounds are intense. It is crucial to assess if it may be the direct consequences of understaffing, lack of training, or a facility's negligence.
Contact our attorneys for a free case review, and we will investigate the circumstances surrounding your loved one's care and who may be responsible. We work only on a contingency basis to cover all the costs of bringing a bedsore case, including court fees, expert medical testimony, and other litigation expenses. Our firm recovers only when we win, and you never pay if we do not.